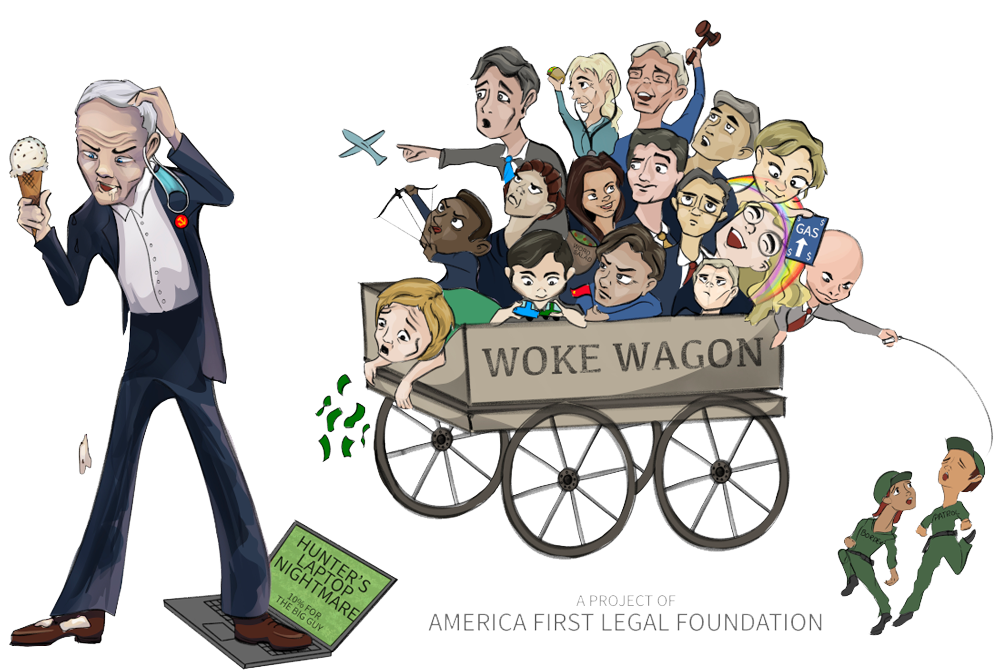 WASHINGTON, D.C. – Today, America First Legal (AFL) proudly launched a new and improved Woke Wagon website with new features, easier navigation, and expanded capabilities.
AFL's Woke Wagon – launched one year ago today – is a public-facing database of names, resumes, and other employment information of Biden Administration political appointees. AFL submitted FOIA requests to every department and agency across the federal government to obtain information about the Administration's political appointees. AFL has obtained information from many departments and agencies. Still, many flouted their legal obligation to provide the requested information—leading to a litigation blitz where AFL sued 11 Departments to obtain the records it has now made public on the Woke Wagon.
The database has led to revelations such as the release of resumes from political appointees in Biden's HHS, revealing previous work for organizations that hosted drag queen story hours for children, and Biden administration ties to campaigns, unions, and liberal think tanks.
The new website features improved functionality such as:
Improved search functions;
Improved grouping of coworkers and colleagues based on Departments and offices;
Even more profiles (Over 2,200 Biden Administration appointees are in the database);
Ability to search and group people by tags to see the backgrounds of various appointees (what nonprofits they worked at, campaigns they worked on, etc.).
AFL will continually update and improve the Woke Wagon with new information as we receive it. We anticipate receiving even more updated names and documents in the months to come in response to the 21 new FOIA requests we filed this year across the federal bureaucracy.
Statement from Gene Hamilton, America First Legal Vice President and General Counsel:
"We are excited to be able to provide the American people with a resource that anyone can use to determine who is driving policy changes to advance the Biden Administration's radical agenda. The Woke Wagon is a vital resource for Congress, for journalists, for other nonprofits, for businesses across the country, but most importantly–for YOU," said Gene Hamilton.
Visit the Woke Wagon here.
Follow us on social media for the latest updates on America First Legal's fight to protect your constitutional rights!
Twitter, Facebook, GETTR, Parler, Instagram
To schedule an engagement with America First Legal, please email [email protected].