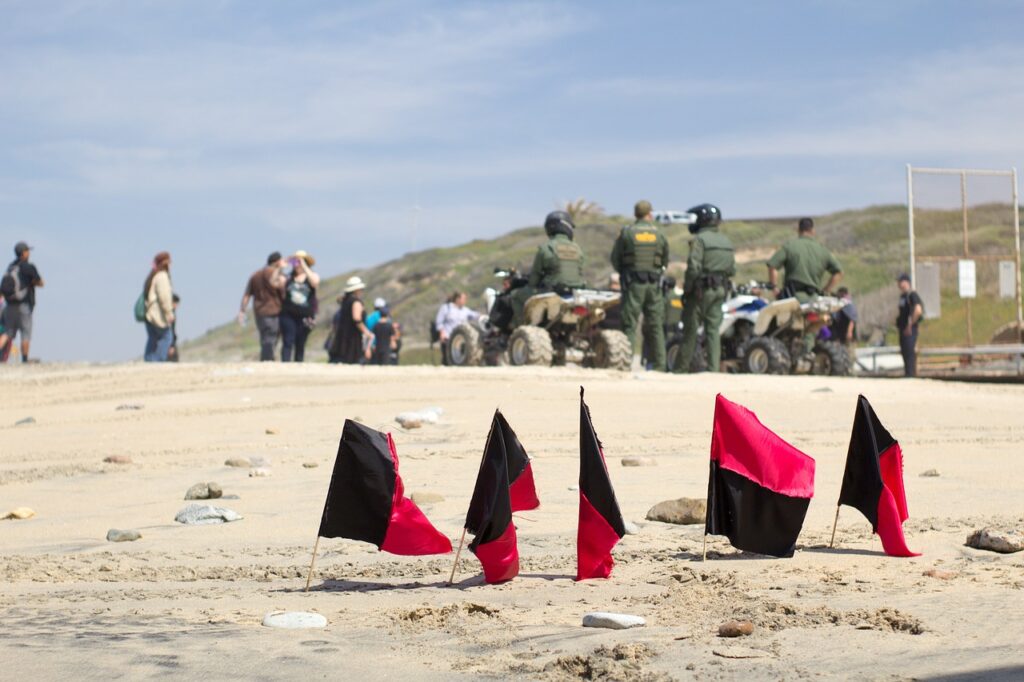 WASHINGTON, DC – America First Legal (AFL) has filed Freedom of Information Act (FOIA) requests with the Departments of Justice and Homeland Security seeking records about the Biden Administration's latest efforts to frustrate and prevent the enforcement of federal law against illegal aliens–by effectively granting administrative amnesty to illegal aliens who have pending cases in immigration court. 
Americans have witnessed the Biden Administration use the machinery of the federal government to enact policies that promote and encourage mass illegal immigration from all points across the globe. But the Biden Administration's plans are far more comprehensive than just facilitating more illegal immigration into the United States. They include doing things to prevent the enforcement of law against illegal aliens already here, including those who are in immigration court proceedings and face potential deportation from the United States.
AFL's new FOIA requests relate to these plans to effectively grant administrative amnesty to hundreds of thousands of illegal aliens who are currently in immigration court proceedings and face deportation from the United States. Rather than completing their cases and adjudicating them to conclusion, the Biden Administration has actively been working on implementing and enhancing a plan to "close" or "terminate" as many cases as possible, leaving the administratively-amnestied illegal aliens in the United States for an indefinite period.
This plan has been underway for some time, with advocates at DOJ–Margie O'Herron and Lucas Guttentag, both in the Office of the Deputy Attorney General, as well as EOIR personnel–coordinating efforts across the Administration through regular meetings with the Domestic Policy Council, on identifying ways to remove as many cases from the immigration court dockets as possible. But again, their plans appear to involve finding every way possible to avoid actually completing cases that might result in the issuance of a removal order against an alien. 
These plans will now kick into high gear with the issuance of a 17-page memorandum from the Principal Legal Advisor of ICE, Kerry Doyle–a Biden Administration political appointee who formerly spent her entire career advocating for illegal aliens–directing ICE prosecutors to dismiss cases against illegal aliens, administratively close cases, acquiesce to requests from illegal aliens, and even goes so far as to encourage ICE attorneys to not appear in court in other cases. 
The Biden Administration has not publicly disclosed their comprehensive plan or their coordinated efforts to the American people, nor have they adequately addressed their plans with Congress. AFL will not stand by and allow President Biden and his Administration to hide these efforts from the American people.
Statement from America First Legal Vice President and General Counsel Gene Hamilton:
"The Biden Administration is willing to put its open-borders agenda and desire for a future legislative mass amnesty ahead of the safety and security of the American people. In addition to the catastrophe the American people see playing out at the border, there are plans underway within the Biden Administration to provide administrative amnesty to hundreds of thousands of illegal aliens currently in immigration court. The Administration appears to have taken the oft-spoken adage among ICE and CBP personnel–'it's not over until the alien wins'–and turned it into a policy process to ensure that actually happens at every possible opportunity. These policies are like gasoline to a fire, make a mockery of anyone who has gone through the lawful immigration process established by Congress, and will further engulf and destroy any remaining integrity in our immigration system." Gene Hamilton said.
Read the DOJ FOIA request letter here. 
Read the DHS FOIA requests here and here, the USCIS request here, and the ICE requests here and here
To schedule an engagement with America First Legal, please email [email protected].