WASHINGTON, D.C. – Today, America First Legal Foundation (AFL) requested that the U.S. Department of Health and Human Services Inspector General investigate the Centers for Disease Control's (CDC) collusion with social media companies, including Facebook, Google, and Twitter, to push illegal covert COVID-19 propaganda.
On July 15, 2021, the White House admitted that the Biden Administration colluded with its corporate allies to censor what it deemed COVID-19 "misinformation" and "disinformation." On July 16, 2021, AFL filed a Freedom of Information Act request with CDC seeking information regarding the government's activities. Contrary to law, CDC refused to turn over the records. On April 8, 2022, AFL sued to enforce the law. On July 17, 2021, CDC finally turned over 286 pages of records.
These records are damning. They prove that the Biden Administration and Big Tech knowingly and intentionally combined to mislead the public about the origin of COVID-19 information on social media; censor social media users who dissented from the government's approved talking points; and conceal the government's role in writing and publishing masking and vaccination talking points. For example:
CDC officials responded to Facebook's request for "CDC approval" of content that Facebook would display in its "new FAQ modules appearing in the COVID-19 Information Center," with CDC's edits and corrections: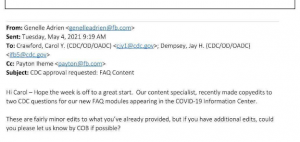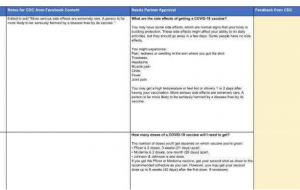 However, the CDC's responsibility for this content was intentionally concealed from the public: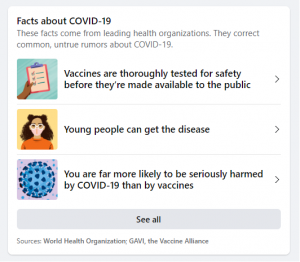 CDC officials sent Twitter representatives a list of 13 tweets flagged for "misinfo":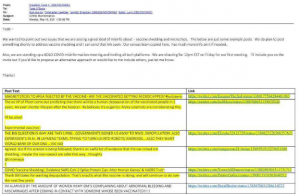 Seven of the Twitter users flagged by the CDC had their Twitter accounts suspended, but the government's role in the matter was hidden.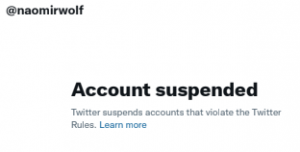 The Biden Administration's covert propaganda program is illegal and deeply insidious. Collusion between the government and its corporate allies to control what citizens read, hear, and say, is the practice of authoritarian regimes, not the United States of America. America First Legal will continue fighting for transparency and accountability.
Statement from America First Legal Vice-President and General Counsel Gene Hamilton:
"Free societies do not flourish when the government is both the arbiter of truth and the hidden source of information used for public consumption. The evidence we have uncovered should serve as a wake up call for all Americans," Gene Hamilton said.
Read the Letter here.
ollow us on social media to get the latest updates on America First Legal's fight to protect your constitutional rights!
Twitter, Facebook, GETTR, Parler, Instagram
To schedule an engagement with America First Legal, please email [email protected].