WASHINGTON, D.C. – Today, America First Legal ("AFL") formally requested that the Office of Special Counsel ("OSC") investigate whether White House Chief of Staff Ronald Klain violated the Hatch Act by using his official "@WHCOS" Twitter account to retweet partisan political messages, including promoting fundraising links for Democrat political activity.
The Hatch Act prohibits government employees from using their official authority or influence for electioneering or partisan political purposes. The Act further prohibits executive branch officials and employees from knowingly soliciting political contributions from any person. According to the OSC's guidance, executive branch officials "may not use a social media account designated for official purposes to post or share messages directed at the success or failure of a political party, candidate in a partisan race, or partisan political group."
Yet, last week Klain retweeted a StrikePAC tweet that said "Get your 'Democrats Deliver' merch today" and included a link to PAC's shop.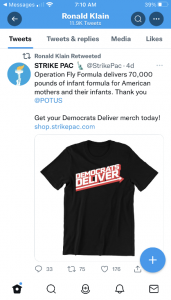 StrikePAC is a partisan political action committee whose mission includes "helping to elect Democrats" who share its political views. Klain's tweet contained a link to contribute to the PAC's efforts to elect Democrats. The same link invited users to buy branded merchandise from the PAC, with slogans like "Democrats Deliver" and "Elect Democrats."

During President Donald Trump's Administration, Klain tweeted in Feb. 2018 that "using your WH title in a press release advocating the President's reelection is ILLEGAL." It is clear Klain is well familiar with the Hatch Act and its restrictions, including the proper use of official government social media accounts.That he would use the pulpit of the White House to push partisan political activity on social media, including hawking merchandise for a partisan PAC, is troubling. 
America First Legal will not stand by and allow Biden Administration officials to promote partisan political messaging and knowingly violate the Hatch Act without repercussions.
Statement From America First Legal Vice President and General Counsel Gene Hamilton: 
"Time and again during the Trump Administration liberal activists, including Ron Klain himself, targeted members of the Trump Administration with allegations of potential Hatch Act violations. Klain and others in the Biden Administration know the rules, but they don't want the rules to apply to themselves–only conservative voices they disagree with on every issue. OSC should investigate and ensure that the law applies equally to all officials, regardless of political party," Gene Hamilton said.
Read the letter here.
To schedule an engagement with America First Legal, please email [email protected].