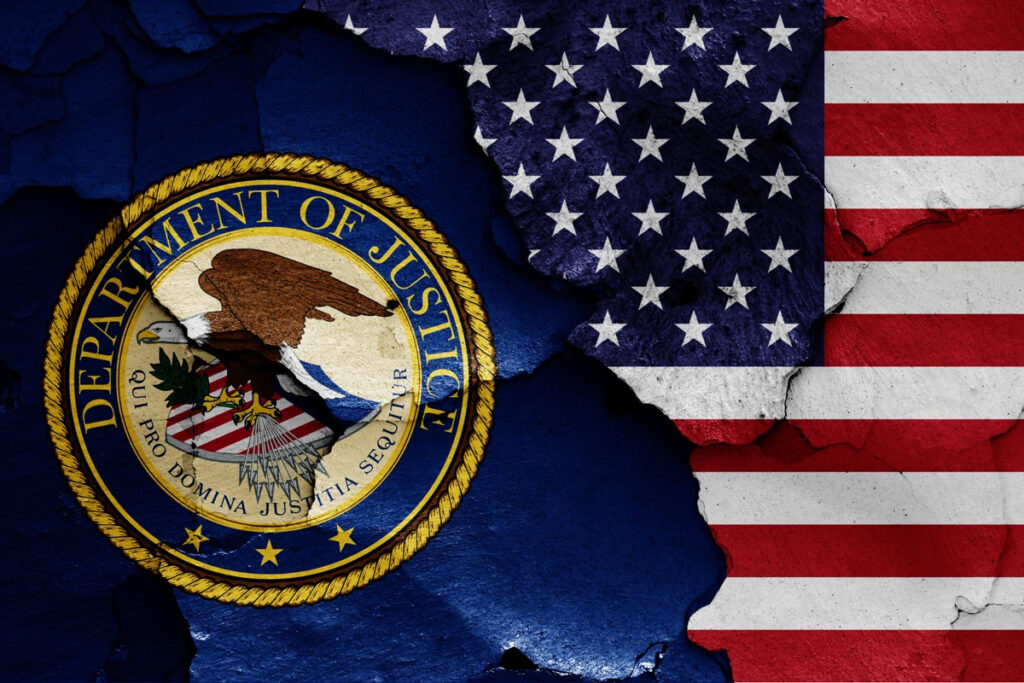 WASHINGTON, D.C. – America First Legal (AFL) has demanded that the U.S. Department of Justice (DOJ) Inspector General investigate blatant double standards of justice at the Biden Administration's DOJ, which was made apparent with yesterday's raid on former President Donald Trump's home in Florida.
Dozens of FBI agents raided President Trump's home yesterday, not only shocking the conscience of our Republic, but clearly demonstrating the Biden Administration's double-standard system of justice. Yesterday's raid provides yet more evidence that partisans are comfortable abusing DOJ and FBI's law enforcement resources for partisan gain. Other examples of DOJ's abusive and tyrannical conduct over the last 19 months include, but are not limited to:
No investigation into Hunter Biden's laptop, which has been in the possession of the FBI since 2019 and purposefully kept under wraps, labeled as "disinformation," and with no prosecutions for obviously unlawful conduct;

Substantial evidence of public corruption, massive foreign kickbacks to President Biden and his family, including collusion with multiple foreign governments by the Biden family, including Joe Biden, his brother James Biden, and son Hunter Biden;

Clear unlawful activity by the Obama-Biden FBI in colluding with the Hillary Clinton campaign to propagate and disseminate the Russia collusion hoax, including obtaining warrants with the FISA court based on a dossier the FBI knew was false;

Attorney General Merrick Garland's issuance of the

infamous October 4, 2021 memo

that unleashed federal enforcement officers against parents speaking up at school board meetings to protect their rights to parent their children;

Failing to enforce federal criminal statute 18 U.S.C. § 1507 against pro-abotion groups such as "Jane's Revenge" for picketing and threatening the lives of Supreme Court justices outside their homes and summer homes, as well as for attacking and burning pregnancy centers;

American citizens sitting in jail while awaiting January 6th-related trials, and otherwise indicted on charges to force plea deals, while the DOJ blatantly ignores and fails to prosecute violent Black Lives Matters, Antifa, and other protestors who engage in criminal actions such as burning a federal courthouse and decimating cities to rubble;

Disparate treatment of Jeffrey Clark, Peter Narvarro, Roger Stone, and Paul Manafort, among others, with the purposeful intent to humiliate and intimidate not only these individuals but the American public generally;

Actions by the Obama FBI against Carter Page and General Michael Flynn that the FBI knew were false;

Hillary Clinton's creation and maintenance of a private email account in violation of law, and subsequent deletion and acid-washing of 33,000 emails, including emails labeled as "top secret/special access program level,"  yet facing no legal consequences whatsoever by the FBI;

Inaction by the FBI regarding the illegal retention by the University of Delaware  of records of Joe Biden when he was Senator.
Statement from America First Legal Vice-President and General Counsel Gene Hamilton:
"Joe Biden's Department of Justice has made one thing abundantly clear: there are two standards of justice in America. One standard for political opponents of the administration, and one standard for its friends. Time and again, Attorney General Merrick Garland has either deliberately weaponized the Department, or failed to prevent his subordinates from doing so. The Department of Justice's Inspector General has a choice: will he conduct a thorough review and leave no stone unturned in an effort to address blatant politicized activities at the Department, or will he let the broader Department and the Office of the Inspector General cement their reputations as left-leaning, agenda-driven entities? Time will tell," Gene Hamilton said.
Read AFL President Stephen Miller's official statement on the FBI raid on President Trump's home here. 
Read the letter here.
Follow us on social media to get the latest updates on America First Legal's fight to protect your constitutional rights!
Twitter, Facebook, GETTR, Parler, Instagram
To schedule an engagement with America First Legal, please email [email protected].
Photo credit: daniel0/daniel0