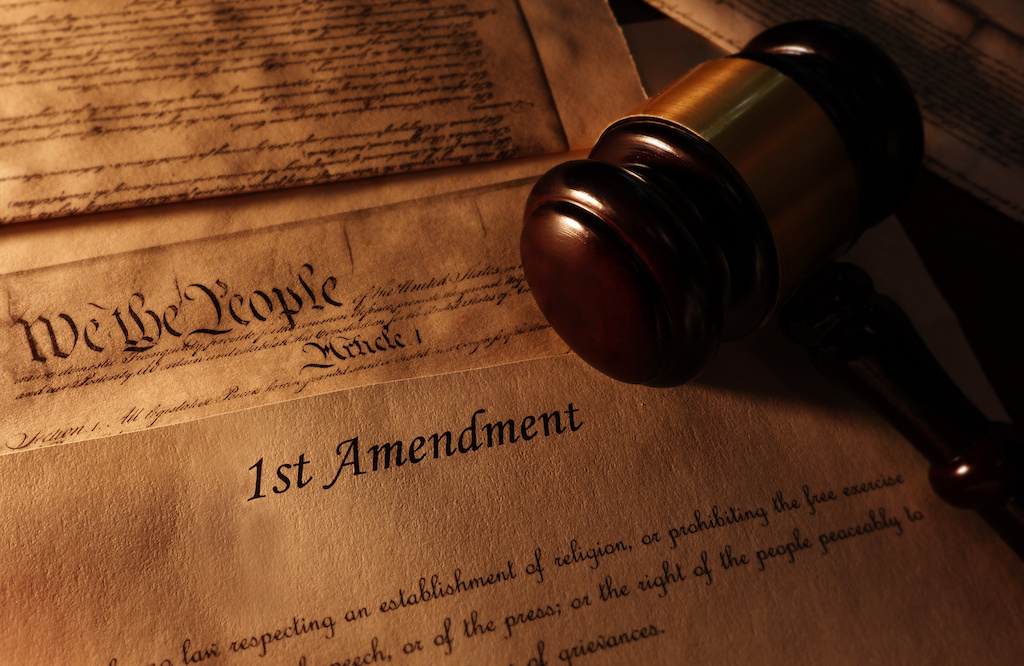 WASHINGTON, D.C. – Today, America First Legal (AFL) filed a formal complaint with the House Committee on Administration's Communications Standards Commission against Representative Veronica Escobar (TX-16) for her attempt to silence AFL in blatant violation of the official standards governing the use of official office communications by Members of Congress.
On November 2, 2022, Rep. Escobar sent a letter to the Commissioner of the Internal Revenue Service (IRS) urging it to launch an investigation of AFL for what she perceived as alleged violations of the Internal Revenue Code. In support of her demand, the Congresswoman cited the airing of lawful and protected educational communications and mailers placed by AFL which exposed the Biden Administration's extremist "gender ideology" agenda, including President Biden's push to permit men in girls' bathrooms and dressing rooms.
AFL uncovered that Representative Escobar unlawfully used her official status as a member of Congress to engage in activity in direct violation of House Communications Standards Commission's provisions on Decorum and Civility. Not only was her letter sent on official Member letterhead, but she represented that she was speaking on behalf of "the community I represent," and she enlisted a member of her official staff to transmit this letter to the IRS. She also posted the letter on her official website. There is no doubt Representative Escobar was clearly acting in her official capacity.
Representative Escobar's actions are in clear violation of the House of Representatives Communications standards. These standards explicitly state "official communications critical of policy may not be personalized or politicized, and may not be used to disparage … other individuals. For purposes of this rule, 'disparage' shall include, but not be limited to, personal insults, ad hominem attacks or attacks on a person's character." Moreover, official communications cannot contain "speculation as to motivation/intent of individuals."
Representative Escobar's letter to the IRS Commissioner directly disparaged and impugned the integrity of AFL, its leadership, and its employees. Her letter accuses AFL of placing two advertisements in a "partisan" manner, framing these educational, informational communications as, among other inaccurate accusations, "an array of right-wing lies and political talking points, including fearmongering rhetoric." In so doing, Representative Escobar also speculated that AFL was engaging in partisan activity.
Rep. Escobar used taxpayer funds in her unlawful attempt to weaponize the IRS against AFL. She should be well familiar with the regulations governing organizations recognized as tax-exempt by the IRS under section 501(c)(3) of the Internal Revenue Code. These regulations clearly provide for organizations to inform and educate individuals and the general public. The educational communications disseminated by AFL clearly complied with IRS regulations. There were no political references within the communications, nor did AFL urge recipients to vote or act in a certain manner.
Nevertheless, Rep. Escobar exploited her official position as a member of Congress to use taxpayer resources to disparage AFL simply because the educational and factually accurate and informative messaging exposed the realities of the destructive progressive ideology she supports.
This is another flagrant example of progressives abusing their power to undermine the Constitutionally protected right to free speech enjoyed by all Americans. AFL will not be bullied or silenced by those who seek to censor free speech, particularly members of Congress who misuse their official positions to do so. AFL has therefore called upon the House Commission on Communications Standards to take appropriate action to ensure Congresswoman Escobar does not again abuse her position and mishandle taxpayer resources for prohibited purposes.
Statement from Gene Hamilton, America First Legal Vice-President and General Counsel:
"Freedom of speech is one of the essential tenets of freedom and the American way of life. Representative Escobar's attempt to weaponize the IRS to silence AFL is just another example of a progressive elite exploiting her position to protect the left's radical ideology. Americans have rightly denounced social media platforms for acting on the government's behalf to muzzle citizens who disagree with the radical left's agenda, but it is perhaps even more disturbing to see a sitting Member of Congress misuse taxpayer dollars to suppress free speech. We will not be intimidated and will continue to speak the truth about the destructive agenda being pushed upon the American people." said Gene Hamilton.
Read the complaint here.
Follow us on social media to get the latest updates on America First Legal's fight to protect your constitutional rights!
Twitter, Facebook, GETTR, Parler, Instagram
To schedule an engagement with America First Legal, please email [email protected].
Photo credit: zimmytws/Adobe Stock Images